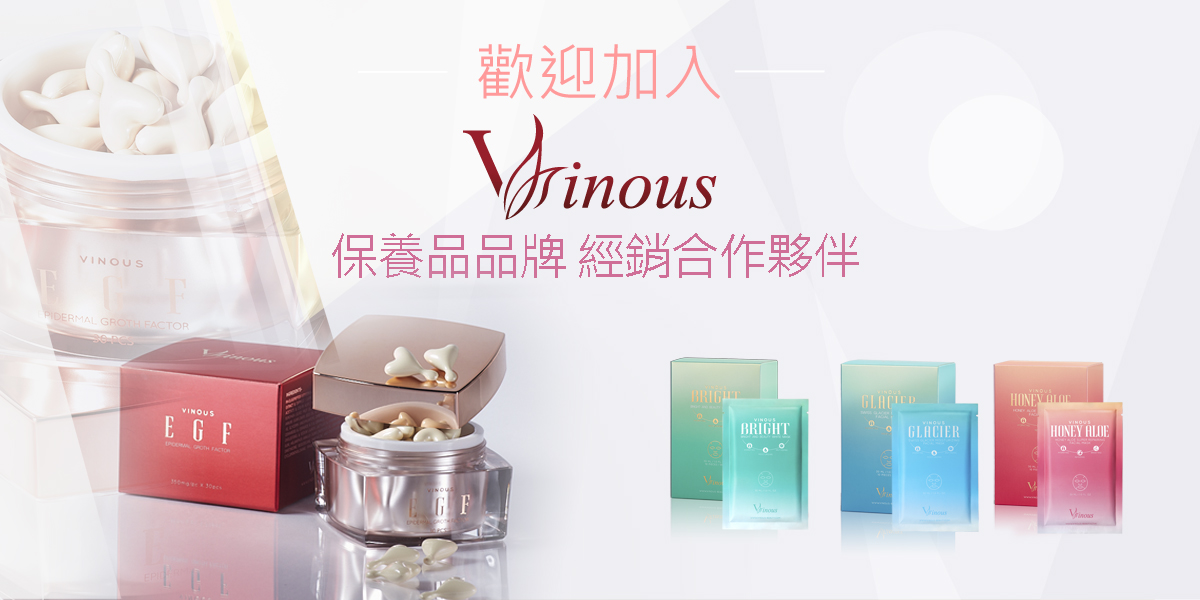 1
Excellent Products
R&D by Professional Teams
2
Strong Support
Complete Educational Training
3
Rich Experience
With over 20 Years of Experience
Director-general Liu who has been in the aesthetic medicine industry for 20 years always cares about the recovery of her customers after laser cosmetic surgery and other cosmetic surgery. The most important key is whether they have used the right skincare products.
VINOUS is the provider of designated skincare products after cosmetic surgery.
Even though the quality, reputation and prices of our products are good, we still need marketing to enhance the positioning of our products and differentiate our brand from other brands as market competitiveness is fierce. It is quite important to know how to attract consumers, and you have to identify with your products before recommending them to others. If you want to be our distribution partner, please contact us. Join the distribution business to give yourself a different path.
Hua Wei Biotechnology Customizes to Make Your Own Brand
Distributors often believe in a myth: if I do well, my achievements will be reaped; if I do not do well, I might be replaced.
Distributors can actually develop their own brands. Upon confirming the company's philosophy and service positioning, they can get closer to consumers and command consumers' needs.
Hua Wei Biotechnology Co., Ltd. develops distribution channels with our distributors and differentiates our managing partners and management from others. Additionally, we offer our distributors technical support, provide the proof of our products' quality and instruct them how to solve our clients' questions and give them assistance. Hua Wei has business exchange with distributors to achieve collaborative partnership, creating the maximum operating profits for both parties. If you want to create your own brand, please contact us.
EGF Beauty Code
Do you worry that there is any trace of aging on your face as you get older? In addition to aging, exposure to sunlight and air pollution can also make the skin dry and rough and begin to wrinkle! Do you feel quite helpless with these skin issues? Don't worry. EGF Beauty Code lets your youth not slip away easily. EGF Beauty Code can reduce wrinkles, boost the skin's metabolism and prevent skin dryness to bring you brightening and whitening effect.